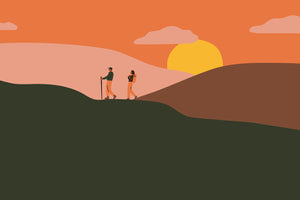 Seven Ways to Get Outside More
Stressed? Unwell? Not feeling yourself? Getting more time outside can help give you a boost when you need it most—but sometimes it's tough to get the motivation. Here are seven ways to get outside more that could turn your day around.
1. Wake up outside
Okay, not literally (unless you're camping), but try instituting the habit of stepping outside immediately upon waking. A few deep breathes will invigorate you and set the tone for your day: you're the kind of person who goes outside! Even better, getting a bit of sunshine to hit your central nervous system upon rising helps regulate your circadian rhythm and improves sleep. Rise and shine.
2. Ask yourself: "could this happen outside?"
Just like you find yourself muttering, "this could have been an email" during a meeting, start asking yourself this question about outside alternatives. Reading a book, job interviews, exercise, first dates, eating your lunch; whatever you're up to, pause for just a moment and ask, "could this happen outside?" We're willing to bet it could. We did this recently with our friends at O Street when we had a happy hour outside. 
3. Institute a 45/15 rule
This isn't just for getting outside, but for productivity overall. For every 45 minutes of deep work, give yourself 15 minutes to move, stretch and get outside. Taking that time makes the work time infinitely more potent, and taking time for your health with actually increase your productivity. If 45/15 is tough, lower the barrier—even 55/5—just to get the habit started. 
4. Walk after eating
One of the best things you can do for digestion and metabolism is to move after eating. Try to get into the habit of taking a brief, brisk walk after your lunch. You won't just benefit from the fresh air—your health and fitness goals will thank you too. 
5. Make set plans
Bouncing around the idea of a hike, campout or backpacking trip? Pin companions down to a set date right on the spot. We all know that "let's do this sometime soon..." plans don't often materialize, so get specific straight away to make sure you get out there.
6. Take calls outside
Lots of us now either work from home or 'flex work'. Post pandemic, it's likely that part of your work life is engaging in remote video and conference calls. Why not take some outside? Especially if you have a call that doesn't even require video or much chiming in, take that call on your back porch with a cup of coffee instead of your basement office. 
7.Get a dog
We've tried to make this list mostly accessible mental and behavioral tricks, but we can't help ourselves on this one. Simply because they require sunshine and movement, dog owners tend to spend a lot more time outside than other folks, and are better off for it in many ways. There's no accountability partner like a floppy, cuddly furball sitting by the door with a leash in their mouth. 
In summary, we hope you can apply some of the above to get out more and improve your life. If you have some success or other ideas, let us know on social media! And when you do go outside, don't forget to wear the right gear. ;)
Keep it good
---